Top 6 Vegetarian Street Foods
Insiders Guide to the Very Best Vegetarian Street Foods in China
Huge thanks to LTL Shanghai student Hannah Li for this blog. Hannah is currently studying Mandarin in Shanghai with us. She is a vegetarian and wants to introduce fellow vegetarians to the better street foods you can get stuck into in China.
Bare in mind these are not just relevant to Shanghai, but can be found throughout China. Take it away Hannah…
Are you vegetarian and considering coming to China?
Are you worried you'll miss out on some of the best Chinese foods?
Well I'm here to tell you that you absolutely will not!
Even better, you don't need to search for Western restaurants to find a delicious vegetarian meal either.
A wide variety of vegetarian street food is available at your fingertips!
While street food may not be the best option for daily meals, it can make for a delicious snack or the occasional breakfast or lunch. Chinese street food is cheap, tasty, and can be found just about anywhere.
Here are some of my personal favorites that I think every vegetarian should try!
Vegetarian Street Food #1 Chinese Pancakes (饼)
Let's tackle pancakes first!
There is an enormous variety of Chinese pancakes (bing, or 饼), many of which are vegetarian or have the option of not adding meat.
As a Westerner, the word "pancake" conjures up a sweet, fluffy breakfast item, but many Chinese pancakes are actually savoury!
One of my favourite styles of pancake is the Jian Bing (煎饼). Jian bing is hugely popular in China, and it's quite similar to a crepe, made with flour and spread thin on a griddle until crispy.
You can then add whatever fillings you like, so get creative!
Usually vegetarian fillings include eggs, lettuce, scallions, youtiao (油条) (a type of Chinese donut), crackers, various sauces, and chilli oil. Sausage and other types of meat are also common fillings, but they are simple to avoid.
Another common type of pancake is fried, and thicker than a jian bing, often with flaky layers. A couple of these include scallion pancakes, or Cong You Bing (葱油饼), and Jiang Xiang Bing (酱香饼), a personal favourite!
Left: Cong You Bing (Photo courtesy of 360 Baike)
Right: Jiang Xiang Bing (Photo courtesy of qj.com)
You might also find stuffed pancakes at street stalls. While many have meat inside, I'm particularly fond of Jiu Cai Bing (韭菜饼), which is stuffed with green onion.
However, it's best to ask if there is meat inside, since some pancakes may be stuffed with mixed meat and veg.
Last but not least, there is also Shao Bing (烧饼), which is a baked, layered flatbread, usually with sesame seeds on top. It's crispy and flaky, making it delicious but a little messy to eat.
Shaobing can be both sweet or savory, but I've found that I personally enjoy sweet shaobing best, which has a sweet, sticky filling between its layers.
Shaobing can be stuffed or unstuffed, so again, it's best to ask if there is meat inside, especially when ordering a savory shaobing.
Vegetarian Street Food #2 Tea Eggs (茶叶蛋)
Tea eggs are a great source of protein for vegetarians!
These eggs are hard-boiled and soaked in a mixture of water, tea, soy sauce, and spices.
The eggs soak up flavour and simultaneously develop a distinct web-like design caused by the tea mixture seeping into the egg through the cracks in the shell.
Tea eggs are usually around 2 RMB each!
On the topic of eggs, feeling brave… check these out!
Vegetarian Street Food #3 Baozi (包子)
Baozi (包子), a type of stuffed, steamed bun, is a very common throughout China.
Baozi can be both sweet and savoury.
Like many of the other foods on this list, they are often stuffed with meat, so make sure to ask for vegetarian ones!
Here in Shanghai, some of the savory baozi I've tried include mushroom and vegetable baozi (香菇素菜包), transparent noodle baozi (粉丝包, stuffed with clear noodles made from starch), and sour and spicy potato baozi (酸辣土豆包).
Shanghai Dumplings – The Ultimate Guide
Shanghai Dumplings: Do NOT Leave Shanghai Without Trying These Dumplings! One of the foods you must try when you visit Shanghai or China in general. But what exactly are Shanghai dumplings? Are they different to other Chinese dumplings? And why…
Maybe you wouldn't expect to find noodles or potatoes inside a bun, but these fillings are actually extremely flavoursome! The soft, fluffy bun and savoury stuffing make a fantastic snack or meal!
Sweet baozi might be one of my favorite Chinese foods!
My personal favourites include custard baozi (奶黄包 or 流沙包), red bean baozi (豆沙包 or 红豆包), and black sesame baozi (黑芝麻包).
Sweet baozi are great for on-the-go breakfasts, and you might find some soymilk (豆浆) to go with them.
While technically not baozi, Man Tou (馒头) is also a steamed bun, but without filling. They're often sold at the same places that sell baozi.
Mantou doesn't have a strong flavour, but if you're looking for a light snack, mantou is a great option!
Vegetarian Street Food #4 Youtiao (油条)
You Tiao is another fantastic street food that's easy to find.
I mentioned it earlier as a stuffing in jian bing, but you tiao can also be eaten alone!
Youtiao is a long, deep-fried dough stick, similar to a churro or a long donut, but not as sweet. As with anything deep-fried, it is, of course, delicious, but also not exactly healthy!
You can find these all over China and are incredibly cheap, and just as tasty!
Vegetarian Street Food #5 Tofu (豆腐)
Tofu, made from soybeans, comes in all shapes, sizes, and flavors in China, and it's another great source of protein for vegetarians.
Tofu can be fried and topped with sauces and herbs, or you might find it on a stick, marinating in a sauce or broth. Either way, it's fantastic!
As an American, I often think of tofu as reserved for vegetarians only.
However, in China, tofu is eaten by just about everyone!
That makes it readily available at street-side stalls. However, make sure your tofu isn't mixed with meat!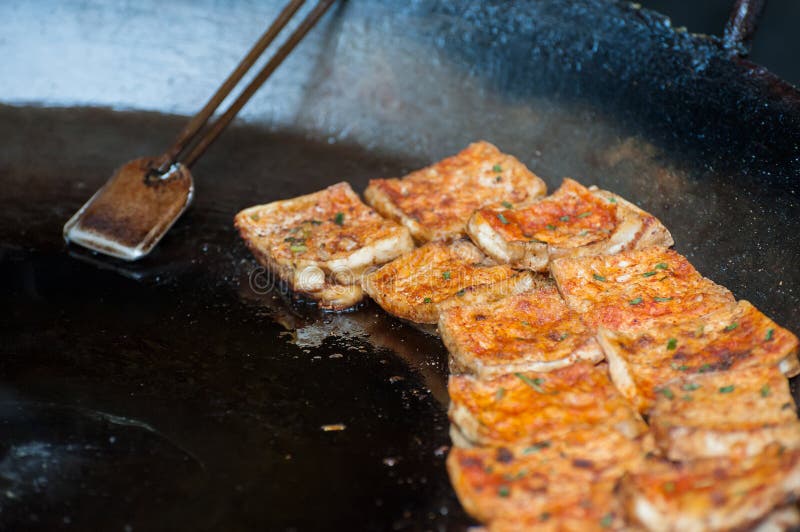 Want to discover more about Tofu?
There are probably so many forms of Tofu you never knew existed so we wrote another blog about what is Tofu and the different styles you can enjoy as a vegetarian!
Vegetarian Street Food #6 Zongzi (粽子)
Lastly, Zong Zi is a a triangular packet of sticky rice wrapped in bamboo leaves and stuffed with various fillings.
Traditionally, zongzi is eaten during the Dragon Boat Festival (端午), which commemorates a patriotic poet from ancient Chinese times. However, zongzi is available year-round!
Zongzi fillings can be both sweet and savoury. Vegetarian fillings include red bean, date, or mushroom.
In Conclusion…
I've been living in Shanghai for about 3 months, so this list is far from exhaustive! But these are some of my favourites that are simple to find and super tasty. So if you haven't arrived in China yet, know that there is a lot of good food waiting for you! Being vegetarian shouldn't restrict your food options much at all!
If this list is missing any of your favorite vegetarian street foods, share them with us in the comment section!
Want more from LTL?
If you wish to hear more from LTL Mandarin School, why not join our mailing list? We give plenty of handy information on learning Chinese, useful apps to learn the language and everything going on at our LTL schools! Sign up below and become part of our ever growing community!
We also offer online Chinese classes tailored to you. Check them out!